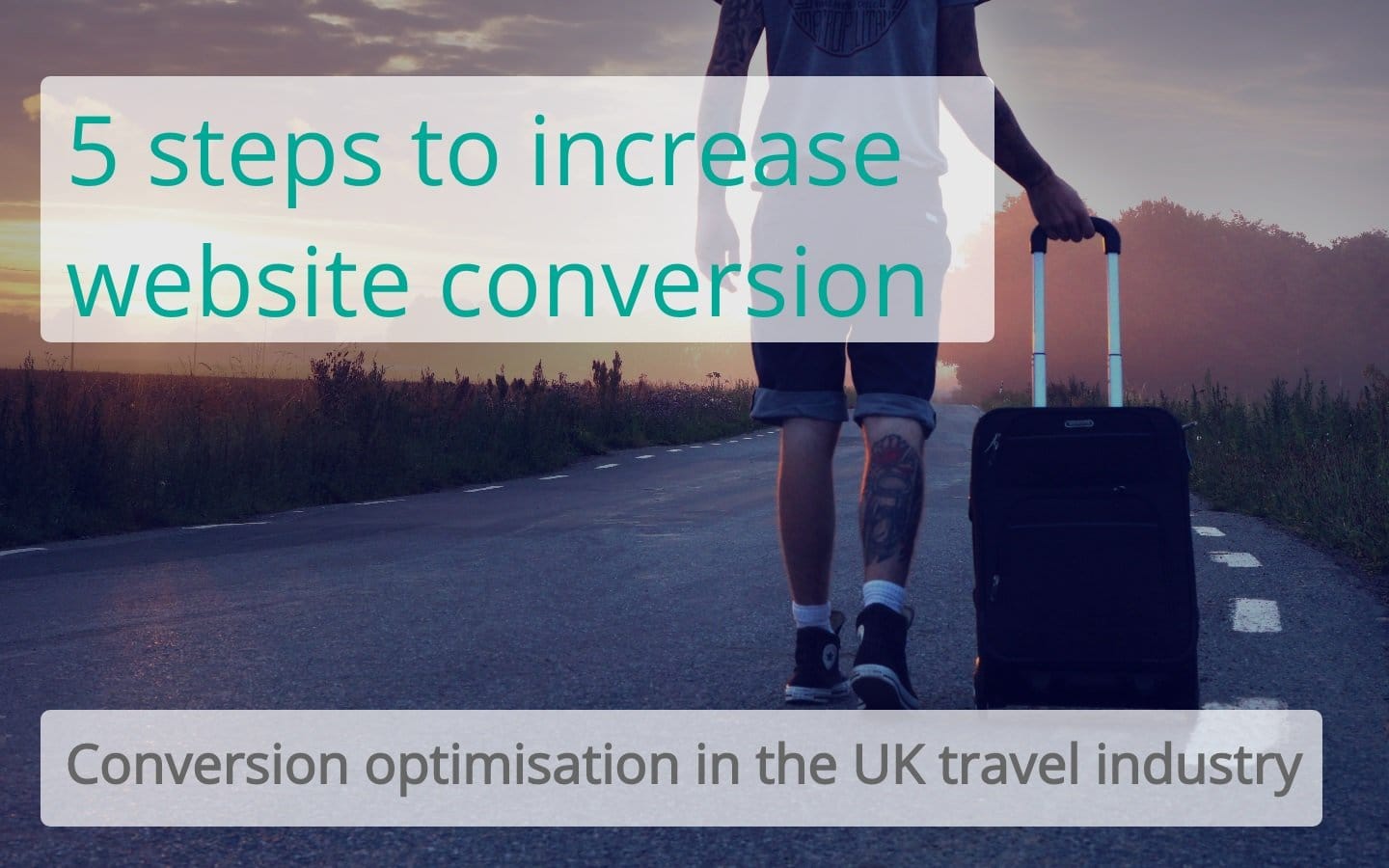 How do you improve your website? What if you knew the exact immediate actions you could take to maximise revenue, increase marketing ROI and improve overall business profitability?
(In a hurry? Jump straight to the five steps.)
Introduction
Chances are, your travel business is powered by your website. And yet… there isn't a 'golden' list of best practices. Why?
Because you're different. Your business is unique. Your processes are unique. Your audience is unique. Your website is unique.
That's precisely why undertaking conversion optimisation – the practice of converting more website visitors into customers – involves collecting research, understanding what's happening, and why it's happening. To you.
The biggest conversion wins will always originate from data-driven insights from the user.
The inconvenient truth is that data-driven optimisation takes time and expertise.
But what if you could improve conversions… starting today? Is there a way to improve your website to a higher standard and address 'quick wins' before getting knee-deep in data?
5 steps online travel companies can take to increase website conversion
Below I've outlined 5 quick wins you can apply to your website right away. These are patterns I see time and again in my client website reviews (lowest hanging fruit). They are applicable to 90% of travel websites.
Apply these insights to your website right away.
1. Value Proposition on the Search Page
The Search Page shows your inventory and search results. It's a critical part of the site architecture because it supports findability of your inventory, and because it's often the first page a user visits.
That second point is often overlooked. But it's critical. Your Search Page is often your first impression. In a travel context, it's usually a destination. Renting a villa in Phuket? Flying to Timbuktu? Adventure in Bora Bora?
Since the Search Page is often the site entry point (often from Google), it's important that this page supports the value proposition. Examples:
✓ Recognised experts in the Alps, three-time winner of 'Best Transfers'
✓ The largest collection of luxury villas in Thailand
✓  Over 70,000 passengers booked holidays with us last year
✓  Over Transfers to 200+ resorts in Europe and America
What are the THREE reasons that a customer would use you? Include these on the Search Page.
The use of breadcrumbs can anchor the user within the overall site architecture. It's critical to orientate the user in your wider context and facilitate browsing.
Balance the persuasiveness of your web copy with search engine optimisation requirements. The Search Page should remain relevant to the search engine whilst supporting conversion.
2. Good Defaults
Travel websites are perfect candidates for 'Good Defaults'. A Good Default is a search parameter like dates, trip type and price range that is pre-selected based on the most common preferences. Good Defaults provide ease of use and a quick start to searching for your next trip.
SkyScanner detect your location to populate your point of departure.
Set defaults based on geolocation. For example, automatically identifying the departing point and currency.
Set defaults based on the page URL.
Save booking history and populate past search parameters for convenience.
3. Add persuasion to your Search
The search function is more important in travel than any other industry. Only when a visitor selects a location and date, will s/he find relevant results to make a choice. There are four key search parameters — date, location, budget and number of people.
But an intuitive search quote engine on its own isn't enough. You still need to position the users and give them a reason to search. Why should they use you?
AirBnB encourages search behaviour by reinforcing their value proposition.
4. Product page – use a two-speed page architecture 
Your product page needs to be schizophrenic and accommodate two user mindsets:
Users who want to quickly understand what is the product and whether it can meet their requirements.
Users who read all the page content because they want as much relevant information as possible to inform the purchase decision, are seeking reassurance, etc.
Note that the first group will not purchase immediately but may return later to purchase. The second segment represents an immediate conversion opportunity.
This is particularly true when the product page doubles as a landing page. Many product pages overly rely on prior on-site priming that doesn't cater for visitors who skip ahead in the journey and drop on the page. This is problematic.
An optimised product page should a) quickly provide top-level product information b) provide deep, persuasive information about the product and c) inform about the business-level value proposition. 
Prioritise important information and avoid hide-and-seek. Don't make it hard for people to find what they're looking for.
5. FOMO
FOMO = Fear Of Missing Out. Examples include:
Two people are viewing the property right now

Hurry, limited availability for the dates you're looking at

Booked 26 times today

Last booked 6 hours ago

Etc.
The psychology of scarcity messaging is well-researched. Simply put, people want more of those things they can have less of.  Scarcity is often used to encourage purchasing behaviors. It prevents customers from taking the time to think and instead pushes them into making a decision immediately.
Not long ago, this kind of real-time messaging was innovative. Now it's becoming par for the course, and it's one area where travel lags behind retail. Platforms like Shopify have long offered plugins that do scarcity messaging out the box.
Hotels.com heavily features scarcity messaging on the Search Page.
Before site-wide rollout, build a business case. L
aunch scarcity messaging on a selection of your most popular products only. Get started with Google Tag Manager (free) and deploy with minimal input from your technical team.
Conclusion: making money faster
As conversion optimisers, we do our best to steer clear of 'website best practice'. What works on your website doesn't necessarily work on mine. However, in 2018 my experience is that the above list is universally applicable to travel websites.
Not included here are tips like "'have really GREAT imagery" or "feature LOADS of positive reviews" because those require a LOT of effort. The above list is both universal and immediately actionable. 
If you aren't applying conversion optimisation to your website you have a huge opportunity waiting for you.
I work with travel businesses to maximise website revenue. True optimisers have a structured approach to optimisation that increases conversion rates and marketing ROI.
Get started by scheduling a 30-minute CONVERSION X-RAY call with me. It's 100% free.