You've heard it before. Data is the new oil, data scientists are earning megabucks, there's a talent shortage in digital.
You know you're sitting on a mountain of data but you don't know how to leverage it.
How do you get better at using data to drive more revenue for your business? How can this be applied to the engine of ecommerce growth, your website?
In today's fast-moving world, it's no surprise that lack of education/training on data analysis and analytics is the biggest barrier to making more key business decisions based on data insights.
Source: "How to make everyone on your team a data-savvy marketer" October 2017
In this article I'll share a framework for 'being data-driven', and give some concrete examples when it comes to 'being data-driven' on your website.
What do data skills look like?
My old CEO used to say: "you don't know what you don't know". Many businesses are willing to invest in training, but are held back because they don't know what to learn.
When it comes to data, businesses understand the 'why', but they don't know the 'what'.
What a data-driven culture looks like
A data-driven organisation:
tracks the 'full English' of KPI's, and understands how they correlate to growth;

integrates different systems/processes/people to ensure real-time flow of data across silos;

relies on testing and experimentation to drive incremental revenue, using controlled experiments
The Multiplier Effect
When done properly, the combination of data collection, analysis, design and evaluation exponentially boosts returns. I call this the 'multiplier effect'.
Data Collection > Data Analysis > Hypothesis Generation > Controlled Experiment > Evaluation = £££
You need to do all these things well. Let's take a practical example using website conversion optimisation as an example:
Data collection
Understand where the data comes from. Data is sent to Google Analytics from your website. Is it accurate? Are you double-counting pageviews? Are all the pages tagged? Is the add-to-cart button tagged? Are you able to visualise the shopping cart funnel? Are you looking at user data (good!) or are you still relying on session data (bad!). And so on!
Don't blindly trust the data in Google Analytics just because it's there. Become expert at performing tag walkthroughs on your website to understand what data is being sent. 
Data Analysis
Sometimes you've got an idea, but no data to back it up. In those cases you need to add instrumentation to your measurement plan. It might involve updating your Google Analytics setup, doing some user testing, launching some surveys or (shock) talking to some customers.
This means you need to understand the data options available to you. It helps to break it down into quantitative data and qualitative data. Here's a non-exhaustive list: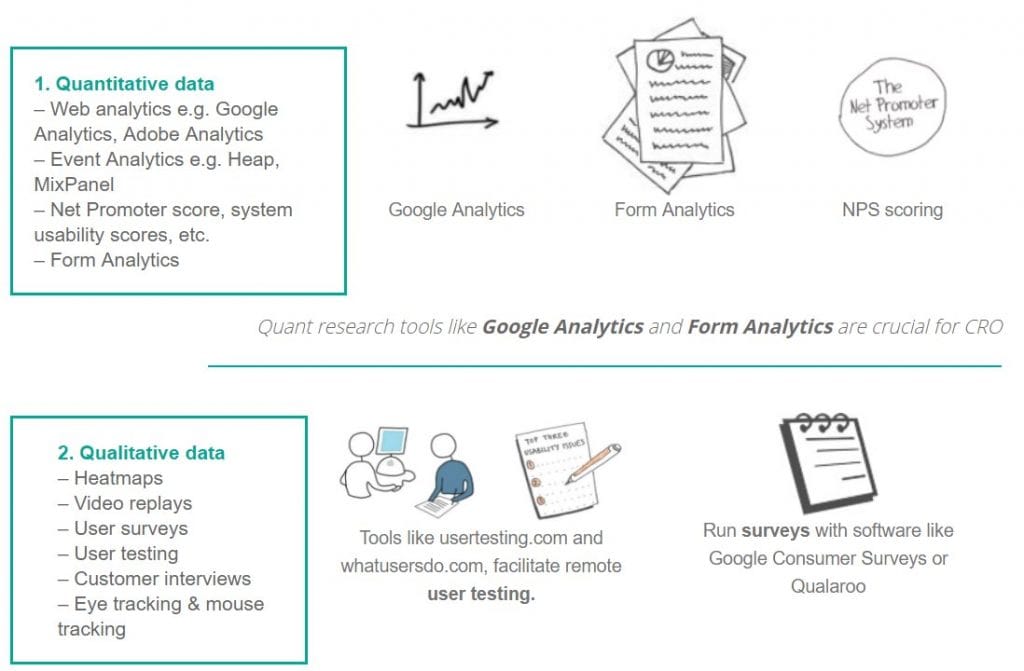 Combine datasets to inform your analysis.
Hypothesis generation
Postulate using the following framework: 
Because we saw

[data/feedback]
We expect that [change] will cause [impact]
We'll measure this using [data metric]
Controlled Experiment
Understand experiment design to test your hypothesis. You need people who can design experiments because A/B tests come in many forms. Factorial? Sequential testing? Non-binomial KPI? 
Evaluation
Understand test evaluation (statistics) 
False positives, Bayesian or Frequentist, confidence intervals, etc.
MarketingSherpa research has shown that nearly half of marketers don't even calculate statistical significance when they test. This means they may be making major marketing and business decisions based on incomplete, or even worse, misleading data.
The takeaway
'Being data-driven' starts with an understanding of what that means. Using a simple framework (Data collection > Data analysis > Hypothesis generation > Controlled Experiment > Evaluation) will help get you there.
Putting together a team is hard, but the rewards are exponential. You'll achieve the Multiplier Effect.
If you're not currently leveraging data to improve your website, you have a huge opportunity waiting for you. Contact me here to learn about best-in-class approaches to maximising website revenue.